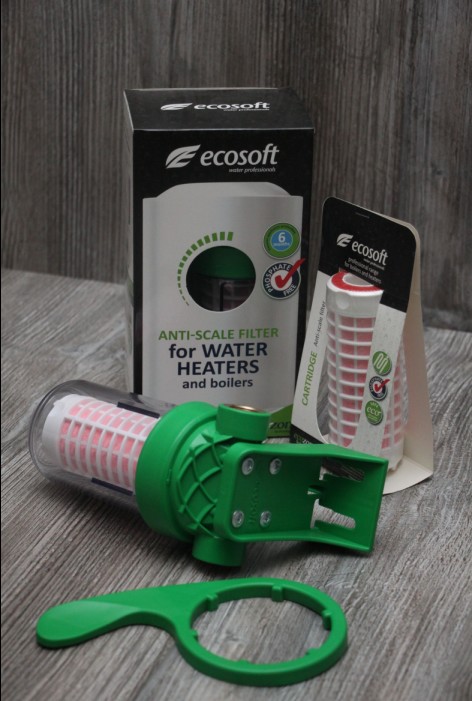 ~ For boilers 
~ For flow heaters
~ For heating systems
~ Benefits of using "ECOZON - 200"
Improves the quality of water for technical use
Thanks to clean heating elements, saves energy
100% energy efficiency
Extends the life of heaters and heating systems
Free of phosphates and polyphosphates, which means it is not harmful to wastewater.
~ "ECOZON-200" brief principle of equipment operation:
The capacity of the element is up to 20,000 liters (20m³), which is equivalent to about 6 months of hot water use. The above capacity is calculated on the basis of the following water quality: total hardness 5 mg-eq / l, total iron (Fe) 0.2 mg / l, which is comparable to urban tap water quality. The capacity of the element depends on the quality of the water (the total salt and iron content of the water). If the water quality is worse than the above, then the capacity will be lower. If the above capacity is not used, the element must be replaced at least once a year.
~ Conditions and recommendations for operation of "ECOZON-200"
ECOZON-100 is not intended for the preparation of water for human consumption
DO NOT USE ECOZON-200 FOR PREPARATION OF DRINKING WATER!
Maximum total hardness (H) concentration in water - <15 mg-eq / l
Maximum concentration of iron (Fe) in water - <0.5 mg / l
Maximum total salt content in water - <1000 mg / l
The recommended working pressure is 2-4 bar
The maximum permissible working pressure is 6 bar
~ "ECOZON-200" quality 
Quality management certificate ISO 9001: 2008
The unique "ECOZON" paint is protected against counterfeiting.
~ Dimensions of "ECOZON-200" 
Height: 190 mm
Diameter: 95 mm
Output/Input Size: ½ (iekšējā vītne)
~ Installation of "ECOZON-200"
For installation, you need to choose a specialist who is knowledgeable and skilled in this area. It is recommended to install in a vertical position. It is recommended to mount on the wall using the original mounting. Before and after the ECOZON-200, it is recommended to install valves for easy replacement of elements during future operation. It is recommended not to use tows, but Teflon tape.
~"ECOZON-200" operation
Inside the ECOZON-200 there is a specific element cartridge that performs a complex effect on hardness salts. This element is environmentally friendly, does not contain phosphates and polyphosphates, and does not cause adverse effects on the environment. This element needs to be replaced periodically (see ECOZON-200 performance above). This cartridge is sold separately. The volume of the element in the cartridge is 100 ml.
Cartridge replacement

1) Shut off the water flow through "ECOZON"
2) Make sure that there is no pressure in the ECOZON hull
3) Unscrew the ECOZON hull from the cover
4) Remove the cartridge from the body and rinse the body with water
5) Insert the new cartridge into the hull
6) Unscrew the hull and tighten it slightly so that it is sealed
7) Run water into the system and make sure the seals are secure
8) "ECOZON" is ready for operation.