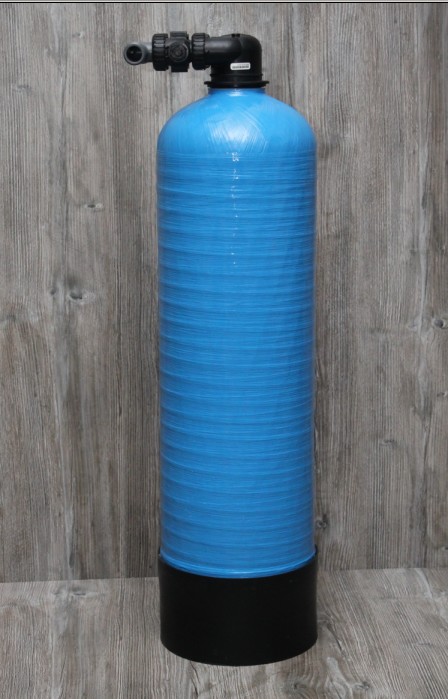 ~ "MIXED-BED935" equipment characteristics:
This series of treatment equipment is used for specific needs. They are mostly used for production technologies where very high water quality is required. Often the equipment is installed after water demineralization equipment (reverse osmosis systems) in order to achieve a very high degree of deionization.
~ Brief principle of equipment operation:
The pressure tank of the water treatment equipment is filled with a layer of "MIXED-BED" resin. This layer attracts various ions from the water flowing through the tank. The untreated water (m³) purifies the water by flowing through the layer in the tank. However, this layer gradually reduces its efficiency from the amount of water consumed and therefore this layer must be periodically changed by replacing it with a new one.
The tank is fitted with an inlet and outlet head "Clack WS", which is equipped with a B-PASS system. This system ensures easy replacement of filling, as well as provides water in a straight line in case of an emergency, bypassing the machine.
~ Benefits using "MIXED-BED935" equipment:
High treatment capacity
Convenient operation and maintenance
Long-term operation = low wear of components and filter material (due to their quality)
~ Water treatment level:
Achievable conductivity concentration in water after purification - 0.1 µS / cm
The level of water treatment depends on the quality of the incoming water. The worse the quality of the incoming water, the higher the electrical conductivity after treatment.

~ Equipment capacity:
At times when the water consumption will be higher than the treatment capacity below, the water treatment function will still be performed, but the degree of treatment will decrease depending on the amount of water consumed at that time.
Note! Treatment capacity is not the flow rate. The flow rate of the equipment is mostly much higher than the treatment capacity.
| Model | Equipment treatment productivity | Maximum flow rate |
| --- | --- | --- |
| MIXED-BED935 | 6 - 12 l/ min | 5,0 m³/h |
~ Equipment assemblage and manufacturers:
SIA "Ūdens būve" performs full equipment assembly. The equipment is assembled in the workshop of SIA "Ūdens būve", 87 Kalnciema Street, or, if necessary, in the facility.
The components are of high quality, they have been inspected and tested. Manufacturers and suppliers of equipment components are the leading leaders in this field, which we believe is trust, responsibility and quality.
The most important components of the equipment are the control mechanism and the ion exchange material. With 10 years of experience in water treatment, we believe that the highest quality mechanisms are manufactured by Clack Corporation in the USA, while the fillings, manufactured by Lanxess in Germany.
In order to obtain additional information about the equipment, its specifications, dimensions and technical parameters, it is necessary to contact the seller by sending a request to the e-mail address This email address is being protected from spambots. You need JavaScript enabled to view it., or by calling the office telephone +371 29349862.
Equipment warranty: 3 years.