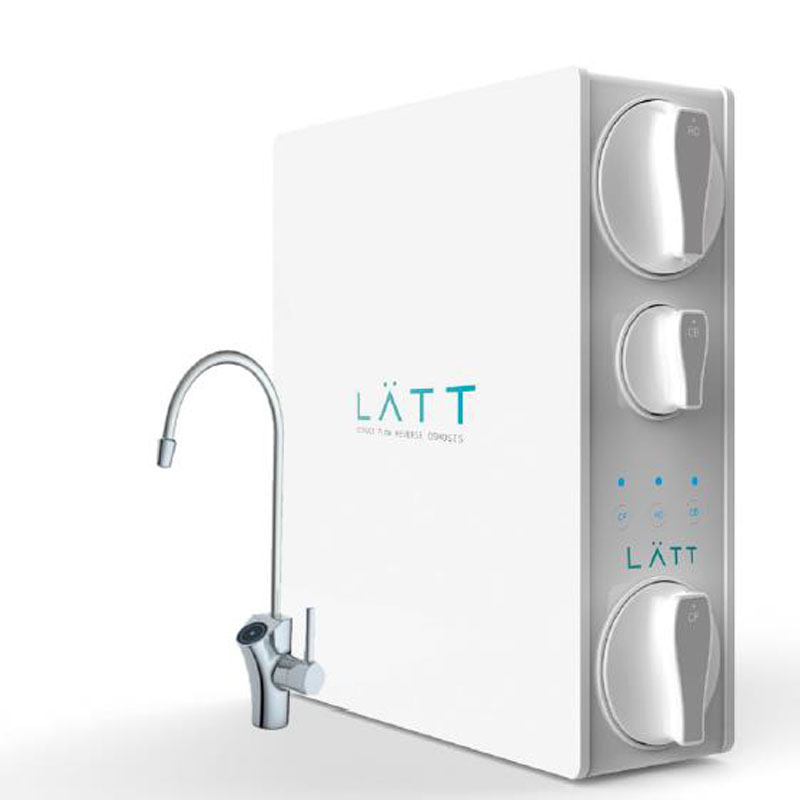 ~ Compact - no storage tank
~ Smart quality control and warnings
~ Aquastop system

Latest innovative direct flow RO
Including a combi bayoneted pre filtration cartridge (sediment and carbon), 600 GPD capsulated membrane, post carbon block cartridge, leaking sensor, filter and membrane change timing, auto flushing and water quality detector always working while water is running. Mixing valve kit optional. Tactile buttons for different operations and information.
Water quality indicator
Three different colors to show three different water qualities at the permeate water (blue, purple and red) depending on the TDS value. While running water it always shows the quality.
Start and stop of the system
This system is provided with a low (pump protection) and high pressure switch for operation control. It stops the system when the faucet is close and starts again when it is partially emptied.
Front panel and interface
Front panel with three tactile buttons. Each refers to one stage of the system and gets on when having to replace it. It also advice by acoustic signals. Frontal led which indicates the quality of the outlet water depending on its TDS. This led also indicates in case there is an error as the system checks the internal electronics periodically.
Technical data:
| | |
| --- | --- |
| Max flow | 1,8 lpm |
| Weight | 12kg |
| Inlet Temperature | 38°C-5°C |
| Inlet TDS | 1500 ppm |
| Inlet presure | 4 bar - 1 bar |
| Prefilter | combi 5 micron pp + high quality block carbon |
| Postfilter | high quality block cabron |
| Membrane | 600GPD |
| Faucet | Smart faucet |
| Pump  | Booster pump |
| Power supply | 24 Vdc |
| Adapter | 100-240V. 50/60Hz: 24Vdc |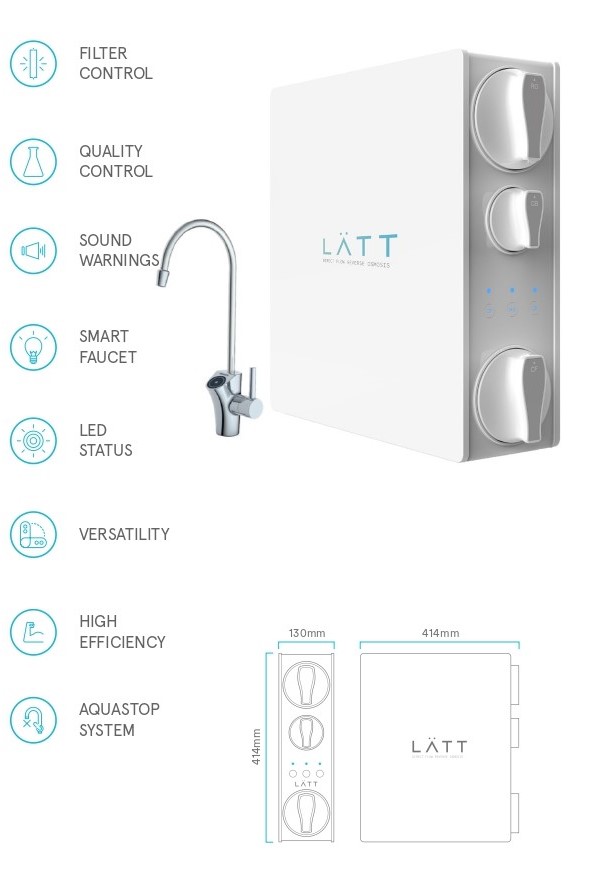 Warranty: 2 years


RO LÄTT