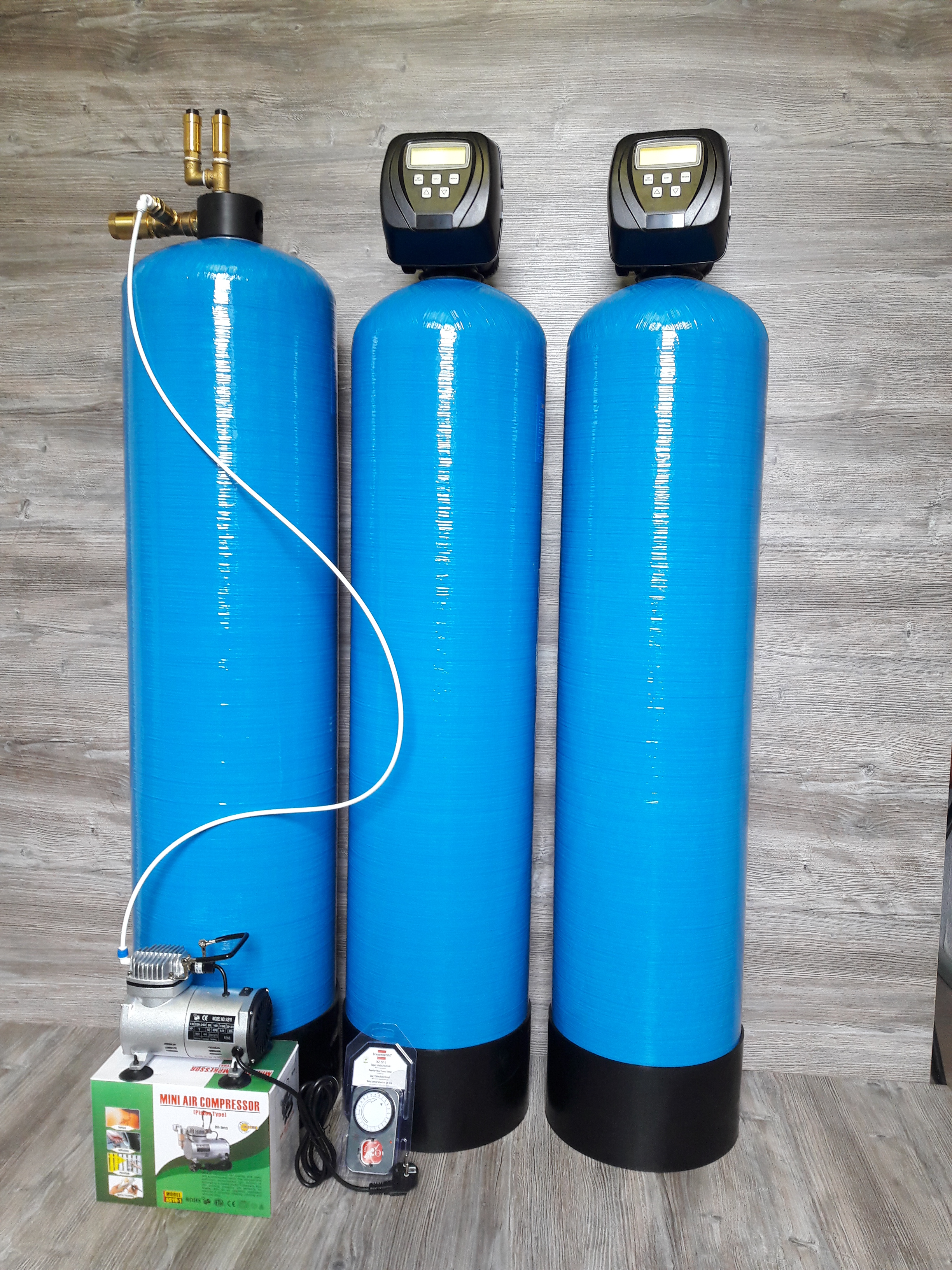 ~ Purifies water from iron
~ Reduces manganese
~ Without chemical reagents
~ Low operating costs
~ "AERO-MAX" series equipment characteristics:
AERO-MAX" series treatment equipment are especially suitable for commercial and industrial facilities. Mainly used in factories, villages and other facilities.
Iron removal equipment "AERO-MAX" performs the deironing process by aeration method, achieving oxidation of iron and manganese and the filtering it. This method has been used all over the world for quite some time. In the past, the aeration method was used only in large-scale iron removal stations, urban water treatment, village water treatment, large boiler houses, factories, etc., but today this method has been improved and can be used in smaller facilities in the private sector.
~ Brief principle of equipment operation:
Initially, the raw water from the water source is pumped to the water treatment site, where it is then brought to the aeration system. Air is brought into the aeration system tank, which oxidizes the iron (Fe3 +, Fe2 +) dissolved in water, forming molecules (Fe2O3, FeO), which are easier to attach to the filter material.
The air is supplied by a high-pressure compressor, the operating intervals of which are regulated by a timer or consumption relays. The precipitates and molecules (Fe2O3, FeO) formed as a result of the oxidation process are brought together with water to the filter tank, where they are retained by the filter layer located in the tank. Thus, the water after filtration is provided clean and free of iron and manganese.
The filter medium must periodically be rinsed with water. When the equipment is being rinsed, the accumulated iron is flushed into the sewerage system. The rinsing of the equipment is performed automatically by means of a control mechanism.
Important! The equipment does not require chemical reagents to operate, which means that the rinsing water does not harm nature and biological sewage systems.

~ Benefits of using "AERO-MAX" treatment equipment:
High water purification capacity
Improves the quality of water used for cooking.
Fully automated operation.
Convenient operation and maintenance.
Long-term operation, low wear of components and filter material (due to their quality).
Low operating costs.
Waste water may also be discharged into biological sewerage system.
No special reagents are required for the operation of the equipment.
3 year warranty
~ Water purification capacity:
Recommended maximum concentration of iron (Fe) in water for purification - max. 10mg / l. Note! This equipment can also clean much larger amounts of iron, but it must be taken into account that if the iron concentration is significantly higher, then the productivity of the device will decrease, as well as the device will require more frequent maintenance.
Permissible maximum concentration of manganese (Mn2 +) in water for purification - max. 2mg / l.

~ Water treatment level:
Total iron (Fe) concentration in purified water - <0.2 mg / l.
Total manganese (Mn2 +) concentration in purified water - <0.05 mg / l.
~ Equipment power:
| Model | Equipment treatment capacity  | Maximum flow |
| --- | --- | --- |
| AERO-MAX1000 | 1,6 m³/h (26,66l/ min) | 6,0 m³/h |
| AERO-MAX1500 | 1,6 m³/h (26,66l/ min) | 6,0 m³/h |
| AERO-MAX2000 | 2,2 m³/h (36,66l/ min) | 6,0 m³/h |
| AERO-MAX3000 | 2,6 m³/h (43,33l/ min) | 6,0 m³/h |
| AERO-MAX4000 | 3,0 m³/h (50,00l/ min) | 8,0 m³/h |
| AERO-MAX6000 | 3,6 m³/h (60,00l/ min) | 8,0 m³/h |
| AERO-MAX8000 | 4,0 m³/h (66,66l/ min) | 20,0 m³/h |
| AERO-MAX2165 | 5,2 m³/h (86,66l/ min) | 20,0 m³/h |
| AERO-MAX2472 | 7,0 m³/h (116,66l/ min) | 20,0 m³/h |
| AERO-MAX3072 | 11,0 m³/h (183,33l/ min) | 20,0 m³/h |
| AERO-MAX3672 | 16,0 m³/h (266,66l/ min) | 20,0 m³/h |
~  Equipment assemblage and manufacturers:
 SIA "Ūdens būve" performs complete assembly of equipment "AERO-MAX". The smallest equipment is assembled on site in the workshop of SIA "Ūdens būve", 87 Kalnciema Street, but the largest equipment on site.
The components are of high quality, they have been inspected and tested. Manufacturers and suppliers of equipment components are the leading leaders in this field, which we believe is trust, responsibility and quality.
The most important components of the equipment are control mechanisms and filtering materials. With 10 years of experience in water treatment, we believe that the best mechanisms and iron removal filter materials for water filters are "Clack corporation" CLACK, manufactured in the USA.
In order to obtain additional information about the equipment, its specifications, dimensions and technical parameters, it is necessary to contact the seller by sending a request to the e-mail address This email address is being protected from spambots. You need JavaScript enabled to view it., or by calling the office telephone +371 29349862.
Equipment warranty: 3 years.