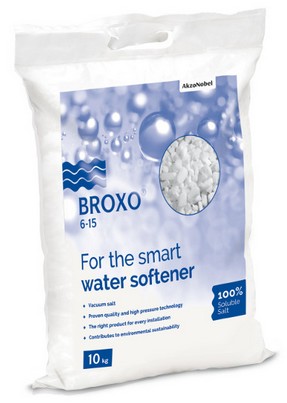 BROXO 6-15 mm salt granules (10kg)
Top quality regeneration salt for water softening equipment
~ BROXO 6-15mm salt granules are of purified, highest quality salt containing 99.7% sodium chloride and are obtained from intact underground salt layer
~ This natural salt product provides excellent results in all types of water softening equipment, both in private households and industrial facilities.
Water that is too hard should be softened as it promotes the formation of limestone or scale. As a result, damage to piping, sanitary equipment, water heating elements and heating systems, which contributes to higher electricity costs, reduced equipment efficiency, the formation of limestone deposits, as well as reduced detergent efficiency. To avoid all this, it is necessary to install water softening equipment in case of hard or calcareous water.
One of the most important components in the water softening process is salt. The effectiveness of water softeners depends to a large extent on the type and quality of salt used. Good salt is one that dissolves gradually, providing only the required amount of salt without breaking down. BROXO salt is pressed under high pressure to obtain the highest product density and the best possible product effect. It has complete resistance to hardening.
Leading manufacturers and distributors of water softening systems recommend BROXO recovery salt. Its quality is guaranteed by the ISO 9002 certificate. The company AkzoNobel in cooperation with the manufacturers of water softeners has developed the BROXO salt range, which ensures the highest quality, efficient results, as well as takes care of environmental sustainability.
Components: Salt granules consist of the highest quality vacuum salt, where NaCl (sodium chloride) is 99.7%. Full chemical composition specification and quality declarations are provided together with sales documents.
Packaging: 25 kg plastic bags
Number on the EUR pallet: 40 bags
Weight of EUR pallet: Net: 1000 kg; Gross: 1030 kg
Expiration time: 3 years
Manufacturer: "AkzoNobel" corp.
Certificates: ISO 9002; ISO 14001; Meets the requirements of EN973 TYPE for drinking water production